Vaya mi gente!

After our citywide Capicu Subway Series in the Spring,
The Peoples Open Mic returns to our home in Brooklyn with some powerful new allies from the Bronx!

Wanna know who's coming through? Book signing by author Ivan Sanchez (Next Stop: Growing up Wild Style in the Bronx; It's Just Begun: The Epic Journey of Dj Disco Wiz, Hip Hop's First Latino Dj) & Featured Poet: Jani Rosado of ImageCULTURA (visual arts boutique)

Music by DJ Sambarella, and of course, YOU! We cannot do this without your support.

So spread the amor, and spread the palabra!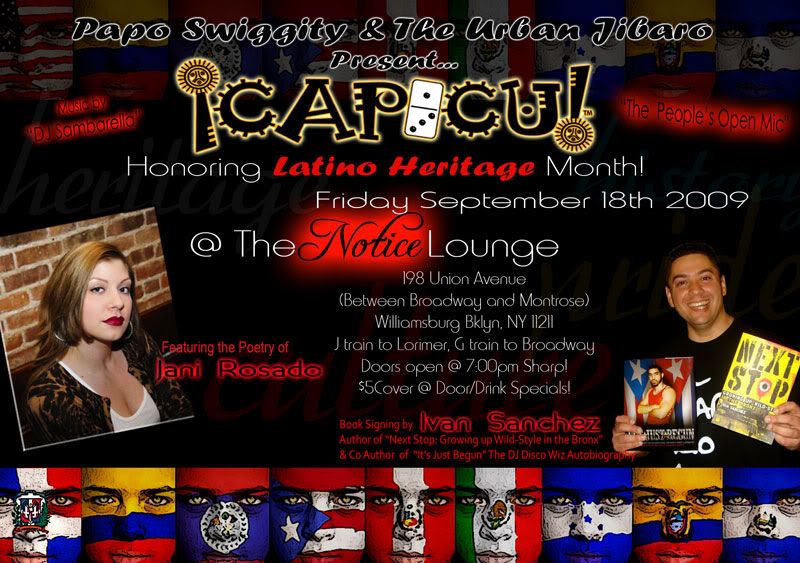 Capicu Poetry Open Mic @
Notice Lounge & Cafe
198 Union Avenue (Between B'way and Montrose)
Williamsburg Brooklyn NYC

We're located directly across from the 90th Precinct

18 to Party, 21 to Drink
Casual But Neat- no hats after 11 PM

By subway:
J train to Lorimer
G train To Broadway


Elevacion!
PaPo Swiggity Santiago
Cofounder; Capicu Poetry & Cultural Showcase
Chat
Google Talk: paposwiggity
AIM: paposwiggity
Y! messenger: paposwiggity